Marriage Halls in Aminjikarai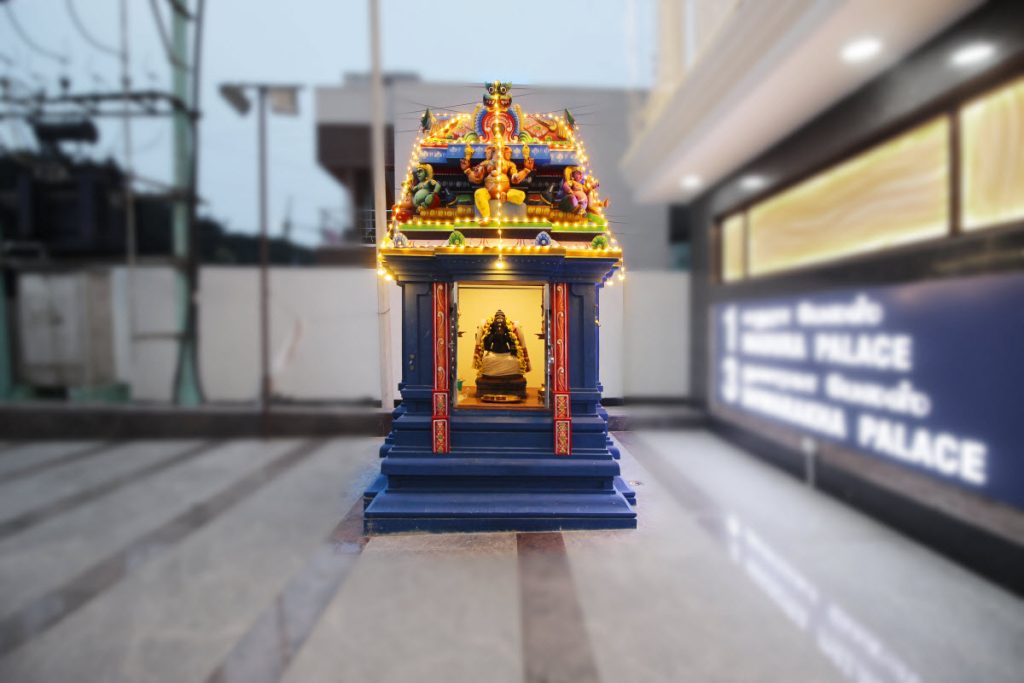 Marriage Halls in Aminjikarai – "GDS Grand Mandapam is a Nice Palace for all Kind of Function, Multipurpose hall. Full AC for Mandapam & Dining. Big Kitchen With all Kind of things & facilities. Nice Entrance with Temple. Huge Parking Space. All Floors Under CCTV Cameras. Fire Safety. Power Backup Generator available." Air Condition Function Halls & Dinning Halls are Fully Air Conditioned POWER BACK-UP 100% power back-up FOOD TYPE Only Vegetarian Food FIRE SAFETY Fire Safety System Provided. SECURITY Surveillance by CCTV Provided ACCOMMODATION 4 Nos. A.C. Double Bed Rooms for each Function hall A/V EQUIPPED Pro Audio for light music system GUEST FLOW OPTIMIZED We have safe and secured elevators for guests HALL CAPACITY Fully Air-Conditioned Hall With 300 Seating Capacity DINING CAPACITY Fully Air-Conditioned Dining With 100 Seating Capacity CAR PARKING Entire stilt floor for car parking KITCHENS Spacious, neatly laid out, well equipped & ventilated. The GDS Grande has two fully air conditioned Mandapams, MADURA PALACE & DHWARAKHA PALACE each of 700 Capacity. Both have separate A/C Dining Halls of 100 Seating Capacity & Separate Kitchens to cater. Air Conditioned Function Hall of 700 capacity & Air Conditioned Dining Hall of 100 Seating capacity. Each Palace has four Air Conditioned Double Bed Rooms. Air Conditioned Function Hall of 700 capacity & Air Conditioned Dining Hall of 100 Seating capacity. Each Palace has four Air Conditioned Double Bed Rooms.
It is always said that the marriages are made in heaven! It is absolutely true for all! A traditional wedding may have to be held in the place of worship, so we make the holy blessed venue for the best moments in your life. One will always want everything to be perfect and majestic on this beautiful and auspicious occasion.
If you need outstanding services in Chennai, we are the right choice for you that are affordable and customized to your needs. We at GDS Grande will ensure you a marriage close to one happening in heaven.
Now celebrate your event in our GDS Grande and give a touch of gold to it. We make every small party a big success and every big celebration a small task. GDS Grande Thirumana Maaligai has centralized air-condition – hall, spacious dining, modernized kitchen with Service Lift, Passengers lift facility and classically designed Air Conditioned Rooms and more.
It is built with all the high class and up-to-the-minute facilities and fully equipped with all amenities to fulfill your dream. We provide a complete range of wedding services and a perfect setting with staffs providing service of supreme quality will ensure that you have a classical wedding. Wedding is a precious moment in the history of a person, so opt the luxuries magnificent paradise to enhance your celebration…Come with a pride to have a Royal Indian Wedding.
GDS Grande can be used for all types of conferences, Meetings, Special Birthday, Engagement & Reception party, dinner & lunch buffets, formal meets of companies, etc. Available Valet Car Park, Power Backup & many more professional services to make your event a memorable one. We serve at your pleasure.
We offer very affordable cost for grand services. But we the GDS marriage halls know the need and demand of the present era. We offer the best standard of services and suggest you plan and organize your special day. AC marriage hall carries a big hall with a vast stage coverage.